Greetings!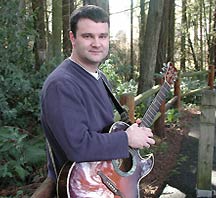 Thanks for checking out MyFriendMike.com – the website of musician, praise and worship music leader, and Christian songwriter Mike Haines. Please browse around to find out more about Mike and the music ministry. Mike Haines is a Christian Singer-Songwriter based out of Portland, Oregon. His music and lyrics have been described as the "comfort food" of music – imagine a band wrapped around an acoustic guitar and sly melodies. It's sometimes silly, worshipful, fun, with a way of connecting the Message to everyday experiences. You may visit The Music! page to listen to samples of the music Mike has written down…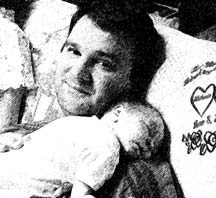 Mike [used to be] available to play for your congregation, youth group, pot luck, coffee-house, university event, retreat, concert series, etc… He is very flexible and welcomes new places, new faces, and would love to work with you to reach out, encourage, entertain, uplift, challenge, praise and worship along side those in your part of the Kingdom of God.
To invite Mike as a musical guest, please check out the Booking Page. Maybe you can even meet Ashley!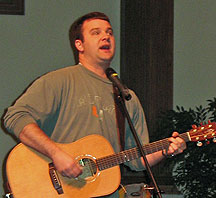 About Mike Haines:
Mike was born and grew up in Cincinnati, Ohio. As a child, he couldn't stay away from his Fisher-Price record player. As he got older, his parents took him to church and also gave him the opportunities to learn piano, French horn, and various percussion instruments. Mike also drank his milk, so he kept growing until he went away to college to study music at the University of Miami. Mike picked up guitar in the early 1990's at a summer camp, where he also learned to lead singing in worship. After graduating, Mike worked in radio in Key West, Florida, where God "tricked" him into going back into worship at a church by providing him a place to play guitar every Sunday. He went on to tour the North West United States for a year with Captive Free, a Youth Encounter ministry based out of St. Paul, MN. God then sent him to Portland, Oregon, where Mike worked with a youth group for 6 years. Mike currently lives in Tualatin, Oregon, where he is Husband to his Wife Kathy, Daddy to his son Nathan, born July 2004, and daughter Abigail, born July 2007, and worship leader at Community of Hope in Wilsonville, Oregon. Mike is also regularly leading worship and playing programs for churches, coffee houses, youth group and university events in the Portland Metro area. Feel free to invite him to your neck of the woods! Thank you again for visiting the website. Please Email Mike if you have any questions regarding booking, the music, worship, or the ministry.